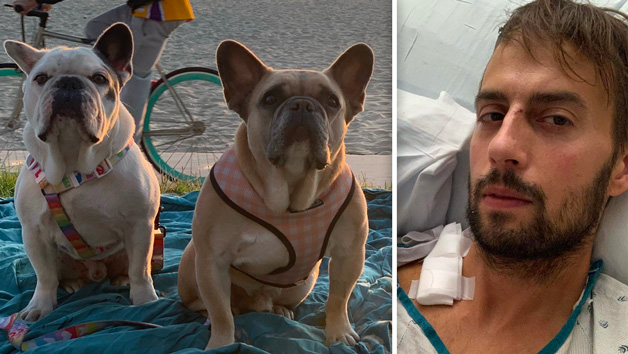 Five people have been charged in relation to Lady Gaga's dognapping incident which happened earlier this year in February.
The thieves have been charged with attempted murder and robbery after stealing the dogs and shooting her dog walker. It's also been revealed that the woman who returned the dogs is linked to the case.
Detectives believe the people involved did not know the dogs belonged to Lady Gaga, however the motive for the robbery was for the value of the French Bulldogs.
The incident happened on the 24th of February when dog walker Ryan Fischer was shot on Sierra Bonita Avenue whilst walking Gaga's three dogs Koji, Gustav, and Miss Asia. Miss Asia escaped, but Koji and Gustav were taken and Fischer was critically injured taken to hospital.
My beloved dogs Koji and Gustav were taken in Hollywood two nights ago. My heart is sick and I am praying my family will be whole again with an act of kindness. I will pay $500,000 for their safe return. Email [email protected] to contact us. pic.twitter.com/3NY9u7Mw2K

— Lady Gaga (@ladygaga) February 26, 2021
The popstar offered a $US500,000 return for her dogs, and the two dogs were found later tied to a pole several miles from where they were kidnapped. They were found by an 'unconnected' woman who took them to the police, however, reports say she turned out to be in a relationship with the dad of one of the suspects and is being charged also.
Aged from 18 to 27, the suspects have been charged with attempted murder, conspiracy to commit robbery, and second-degree robbery. One suspects father and the woman who turned in the dogs are also being charged with being accessories to the incident.
Fischer updated followers on his recovery after the incident in March with an emotional post saying:
"4 days ago, while a car sped away and blood poured from my gun shot wound, an angel trotted over and laid next to me. My panicked screams calmed as I looked at her, even though it registered that the blood pooling around her tiny body was my own... And now? A lot of healing still needs to happen, but I look forward to the future and the moment when I get bombarded with kisses and licks (and maybe even an excitement pee?) from Asia, Koji, and Gustav."
Image Credits: (@ladygaga / Twitter | @valleyofdogs / Instagram)